UNCASVILLE, CONN-The Mohegan Gaming and Entertainment (MGE)  is the new operator of  Ontario, Canada's two Niagara Falls-area casinos for the next 21 years.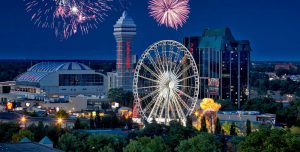 On Monday, Sept 10 2018  the Ontario Lottery and Gaming Corporation (OLG) announced that MGE won the "Niagara Gaming Bundle Contract," which includes the Fallsview Casino, Casino Niagara, and the under-construction  5,000 seat Niagara Falls Entertainment Centre adjacent to Fallsview Casino Resort.
MGE beat out high-profile rivals to win the rights to the contract, which starts next year. Las Vegas-based heavyweights Caesars Entertainment and Hard Rock International were also in the running, but they ultimately lost out to MGE, a much smaller company with 12,000 employees.
"We are honored to have been selected as the service provider by OLG in what was a very competitive process. This procurement marks
Mohegan Gaming & Entertainment's advancement as a leader in commercial gaming and integrated resort experiences around the world, while promoting greater economic development and tourism in the Niagara region through our outstanding gaming, entertainment, and resort offerings," said Kevin Brown "Red Eagle", Chairman of the Mohegan Tribe and MGE Management Board.
MGE plans to leverage the existing Fallsview Casino Resort and Casino Niagara sites in conjunction with the future Niagara Falls Entertainment Centre to create a dynamic entertainment experience that is expected to drive increased visitation to Niagara Falls. Customers will be offered world-class entertainment and amenities while the region is expected to benefit from economic development and increased job opportunities. MGE looks forward to becoming an important part of the Niagara community and partnering with multiple local stakeholders, including Canadian Niagara Hotels Incorporated, the current landlord of Casino Niagara and a local developer, and Niagara Falls Entertainment Partners, the developer of the Niagara Falls Entertainment Centre.
"As a brand known for our all-encompassing entertainment destinations, we are excited to work with OLG, the City of Niagara Falls, Canadian Niagara Hotels Inc., Niagara Falls Entertainment Partners and other local stakeholders in supporting a twin-anchor strategy that is critical to the success of tourism throughout the Niagara region," said Anthony Casdia, Senior Vice President of Business Intelligence, Mohegan Gaming & Entertainment. "The Niagara Falls Entertainment Centre will be used to create unique experiences for the benefit of the Niagara Region, create more jobs, and encourage economic growth. As the operators of one of the most successful arenas in the U.S. over the last 15 years, Mohegan Sun Arena, we are eager to put our experience to work and establish Niagara Falls Entertainment Centre as one of Canada's top-ranked venues."
"In selecting Mohegan Gaming & Entertainment, OLG has selected an internationally recognized gaming destination operator which will take Niagara's casinos to the next level.  I am confident MGE will work collaboratively with the community", said Dino DiCienzo President Canadian Niagara Hotels.

"Selecting Mohegan Gaming & Entertainment is the latest step OLG is taking in our land-based gaming modernization, which is investing in communities and providing customers with new and exciting entertainment options," said Stephen Rigby, OLG's President and CEO. "By leveraging the success of the Niagara casinos and integrating with the wide mix of entertainment and tourist offerings in the area, Mohegan will help ensure the long-term competitiveness of the Niagara gaming market—particularly in relation to markets across the border."
Mohegan Gaming & Entertainment will be responsible for the day-to-day gaming operations of Fallsview Casino Resort, Casino Niagara, and the Niagara Falls Entertainment Centre, while OLG will provide strategic oversight of the Niagara Gaming Bundle and Ontario gaming marketplace, including approvals related to material operational changes. It will continue to conduct and manage gaming in the bundle, own key player information and make payments under the Municipality Contribution Agreement. OLG will also require Mohegan Gaming & Entertainment to uphold the high standards of OLG's Responsible Gambling program and remain compliant with all applicable laws, regulations and standards.
ABOUT MOHEGAN GAMING & ENTERTAINMENT 

Mohegan Gaming & Entertainment (MGE) is a commercial gaming company headquartered in Uncasville, Connecticutat the home of its flagship property, Mohegan Sun. MGE is owner, developer, and/or manager of integrated resorts throughout the United States, including Connecticut, New Jersey, Washington, Pennsylvania, and Northern Asia. MGE are owners and operators of Connecticut Sun, a professional basketball team in the WNBA and New England Black Wolves, a professional lacrosse team in the National Lacrosse League.
MGE'S 10,000-seat Mohegan Sun Arena is now ranked consistently among the top venues in the world according to Billboard Magazine, Pollstar and Venues Today. It has won "Casino of The Year" at the Country Music Awards in 2008 & 2010 and in 2013, was voted "Arena Of The Year" at the G2E Global Gaming Conference in Las Vegas.  Mohegan Sun Arena was also ranked among the top 10 arena venues in the nation for 2014, regardless of size. In 2015, Mohegan Sun took home the IEBA award for "Casino of the Year."  Mohegan Sun also won "Casino of the Year" in 2 categories at the 2013 & 2016 Academy of Country Music Awards. For more information on MGE and our properties, visit www.mohegangaming.com.
ABOUT ONTARIO LOTTERY & GAMING CORPORATION (OLG)

OLG is a crown agency that develops world-class gaming entertainment for the Province of Ontario.  Acting in a socially responsible way, OLG conducts and manages land-based gaming facilities; the sale of province-wide lottery games; PlayOLG Internet gaming; and the delivery of bingo and other electronic gaming products at Charitable Gaming Centres. OLG is also helping to build a more sustainable horse racing industry in Ontario. Since 1975, OLG has provided nearly $47 billion to the people and Province of Ontario to support key government priorities like health care; the treatment, prevention and research of problem gambling; and support for amateur athletes. Each year, proceeds from OLG's operations also support host communities, Ontario First Nations, lottery retailers and local charities across the province.