Remarks by the Prime Minister of Canada on steel and aluminum tariffs imposed by the United States
Prime Minister Trudeau "These tariffs are totally unacceptable" in imposing a dollar for dollar tariff match
May 31, 2018
By Lynda Powless/Editor
Ottawa, Ontario-Canada is hitting back.
A move by American President Donald Trump to impose "illegal tariffs on Canadian steel and aluminum imports has been  countered by Prime Minister Trudeau  who has  hit back with equal tariffs on American steel and aluminum  and warned  American and Canadian citizens  will suffer.
Chaos is expected to hit the borders at midnight  as American tariffs come into effect. Canadian countermeasures  will not come into effect until Canada Day, July 1.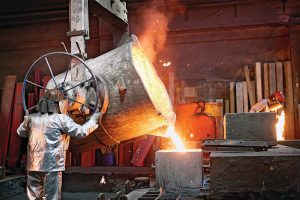 Foreign Affairs Minister Chrystia Freeland  described the American tariff move as  "illegal" and  said Canada is hitting back with duties of up to $16.6 billion on steel, aluminum and other products from the U.S., including maple syrup, beer kegs and whiskies.
She and Prime Minister Justin Trudeau made the announcement within hours of U.S. Secretary of Commerce Wilbur Ross confirming the U.S. is imposing tariffs of 25 per cent on imported steel and 10 per cent on imported aluminum, citing national security interests.
Prime Minister, Justin Trudeau, said, in response to the decision by the United States to impose tariffs on Canadian steel and aluminum:
"Today we find ourselves the target of punitive tariffs on Canadian aluminum and steel, under pretext of a 232 national security provision.
Let me be clear: These tariffs are totally unacceptable. For 150 years, Canada has been America's most steadfast ally.
Canadians have served alongside Americans in two world wars and in Korea.
From the beaches of Normandy to the mountains of Afghanistan, we have fought and died together.
Canadian personnel are serving alongside Americans at this very moment. We are partners in NORAD, NATO, and around the world.
We came to America's aid after 9/11 – as Americans have come to our aid in the past.
We are fighting together against Daesh in Northern Iraq.
The numbers are clear: The United States has a $2 billion US dollars surplus in steel trade with Canada – and Canada buys more American steel than any other country in the world, half of U.S. steel exports.
Canada is a secure supplier of aluminum and steel to the U.S. defence industry, putting aluminum in American planes and steel in American tanks.
That Canada could be considered a national security threat to the United States is inconceivable.
These tariffs will harm industry and workers on both sides of the Canada-U.S. border, disrupting linked supply chains that have made North American steel and aluminum more competitive around the world.
Beyond that, these tariffs are an affront to the long-standing security partnership between Canada and the United States, and in particular, to the thousands of Canadians who have fought and died alongside American comrades-in-arms.
The ties of commerce, friendship and, in many cases, family between Americans and Canadians are undiminished – indeed, they have never been stronger.
The Government of Canada is confident that shared values, geography and common interests will ultimately overcome protectionism.
As we have consistently said, we will always protect Canadian workers and Canadian interests. This morning, I called the Opposition leaders to notify them of our response.
In closing, I want to be very clear about one thing: Americans remain our partners, friends, and allies. This is not about the American people. We have to believe that at some point their common sense will prevail.
But we see no sign of that in this action today by the US administration."
Foreign Affairs Minister Freeland outlined retaliatory measures.  and described the American tariff move as  "illegal".
She said  Canada is hitting back with duties of up to $16.6 billion on steel, aluminum and other products from the U.S., including maple syrup, beer kegs and whiskies. She said the Canadian reaction is proportional and will come into effect July 1, Canada Day and last until the U.S. drops its tariffs.
Canadian tariffs will hit American products from yogurt to frozen meals, maple syrup, toilet paper, plywood, American made washers or dryers, furniture   gardening products and more.
Mexico and the European Union have also imposed tariffs as a result of the U.S. move.  The EU is hitting American orange juice, clothing, motorcycles and yachts with tariffs. Mexico responded  with tariffs on U.S. exports of pork bellies, grapes, apples and flat steel, the Associated Press reported.
The EU  is also launching a dispute settlement case at the WTO and impose "rebalancing measures."
"Today is a bad day for world trade. We did everything to avoid this outcome," said EU Commissioner for Trade Cecilia Malmström. "The U.S. has sought to use the threat of trade restrictions as leverage to obtain concessions from the EU. This is not the way we do business."
Oddly the U.S. did not impose tariffs on China.