By Felicia Fonseca
THE ASSOCIATED PRESS
FLAGSTAFF, Ariz. -Readers of Sherman Alexie's books are re-evaluating what place he has on their bookshelves after the prominent author became the subject of anonymous allegations of sexual misconduct.
Alexie acknowledged this week that he has harmed others but denies physically or verbally threatening anyone or the careers of fellow Native American writers.
Alexie has been a hero of indigenous literature and the focus of simmering misgivings that he's whitewashed Native American life.  Alexie, 51, is likely the most famous Native American author of his time, a hero to some and the focus of simmering misgivings that he's the white man's idea of an Indian writer. A brash public figure who has spoken openly about his personal struggles and navigating life on and off Washington's Spokane Indian Reservation, he's best known for his semi-biographical novel, "The Absolutely True Diary of Part-Time Indian."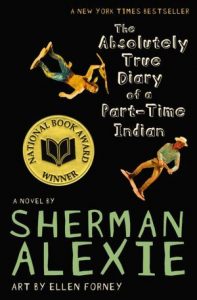 He often draws from childhood experiences, writes openly about navigating life on and off a reservation, and speaks bluntly on social issues.
Tristan Chasing Hawk used the novel and other Alexie writings in speech and debate competitions, and to form his own identity as a member of the Cheyenne River Sioux Tribe of South Dakota. He was attracted to Alexie's universal way of writing and because he communicates in a Native mindset to people outside tribal cultures.
But Chasing Hawk made the decision after he saw the allegations against Alexie to drop his own performances based on Alexie's short stories in "War Dances" in support of any victims.
Allegations against Alexie so far have been vague, referring to unwanted advances, inappropriate remarks and threats against fellow Native American writers. In a written statement this week, Alexie acknowledged "there are women telling the truth about my behavior" but said he didn't threaten anyone or their careers.
His publisher, Hachette Book Group, deferred to Alexie's statement. His agent, Nancy Stauffer Cahoon, has not responded to numerous requests for comment. Phone messages left this week with Alexie have not been returned.
"Absolutely True Diary" won the National Book Award for young people's literature in 2007, and it has been the go-to for a Native American perspective in children's literature, landing on required reading lists at schools nationwide. Alexie also has written poetry, stories and a memoir about his mother, "You Don't Have to Say You Love Me," which recently won the Carnegie Medal for excellence in nonfiction.
Laura Jimenez was required to teach "Absolutely True Diary" as a graduate student but doesn't assign it to her students now at Boston University. She said the novel was groundbreaking but believes it reinforces stereotypes about Native Americans and promotes a singular experience for tribal communities.
"Maybe this is going to give room for other authors and other voices, and especially Native American women," Jimenez said. "Maybe they finally are going to get some of the recognition they deserve because he will not be taking up, claiming all the limelight."
David Aitchison, an adjunct assistant professor at North Central College in Illinois, said he relies on "Absolutely True Diary" for its themes on education, race and class, and its humor and accessibility to engage students who call themselves reluctant or resistant readers.
He plans to take time before teaching a writing course in the fall to decide whether to stick with Alexie or find another text.
"The challenge is, if you take his book away, we have a real hard time finding something that does the same kind of work," he said. "We lose something that is a great teaching tool."
James Welch, whose novels include "Winter in the Blood" and "Fools Crow," once praised Alexie for bringing humor and "a real strong energy" to Indian writing. Alexie has brought equal passion to his comments about the work of others. He has a long history of confrontation, attacking white writers such as Ian Frazier for "objectifying" Indians, and has in turn been criticized for focusing too much on the negative side of reservation life.
He has mocked the idea of being any kind cultural ambassador, noting that he doesn't have the diplomatic skills.
"There is a certain injustice in what I do," Alexie told The Associated Press in 2000. "I'm a celebrity who's an Indian who's mad at the world who's making money off being mad at the world. Where do you go with that?"
Debbie Reese, the founder of the American Indians In Children's Literature blog, has chosen not to promote Alexie by striking out mentions of him and removing his image from a picture gallery. She said she's heard for years of people holding back uncomfortable or angry feelings about Alexie who now might feel empowered to say something publicly.
"A caring piece inside of me was like, one of these young people who he hurt comes to my blog and sees him, it's another hurt," Reese, an enrolled member of Nambe Pueblo in New Mexico, told the AP. "As a person who works in a community sense, I'm very conscious of that."
Students in Beth Piatote's Native American literature class at the University of California-Berkeley spent last week discussing Alexie's novel "Flight," a story of betrayal centered on a Native American foster teenager and said when they heard about the accusations, they also felt betrayed.
"They were in tears," she said.